Backlash Doesn't Deter Central Avenue Improvement Project
April 11, 2016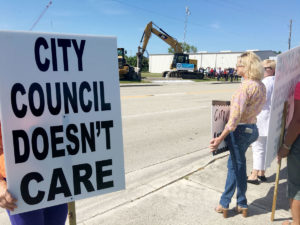 Neapolitans and politicians long debated what to do with Central Avenue, a popular connecting thoroughfare a hop and a skip away from downtown Naples.
And on Thursday, Naples City Council members and Mayor Bill Barnett broke ground on the Central Avenue Improvement project, which is expected to cost $4.5 million and take just 180 days to complete.
About two-dozen protestors lined Central Avenue, which connects U.S. 41 to Goodlette-Frank Road, around 11 a.m. Thursday and stood near 10th Street South where the old Naples Daily News building used to be.
They held up white signs with black letters that said "City Council Doesn't Care" and "Don't Destroy My Business."
Residents protesting against the improvement project say it will create a traffic gridlock and hinder traffic for emergency vehicles.
Former councilwoman, Teresa Heitmann, who also recently ran for mayor, said it would be especially hard for Neapolitans coming in and out of Port Royal to get from one place to the next.
Heitmann, who was protesting Thursday as a citizen, also said it would be difficult for emergency vehicles to traverse the future roundabout.
She and another protestor also pointed out that traffic was already backed up onto 10th Street and Central Avenue, and questioned whether or not the new design plans would ultimately improve the area's traffic flow.
Tara Normand, who lives in Golden Gate, but uses Central to get from Goodlette to U.S. 41 on a regular basis, thinks the new project will make it especially harder for local residents to get in and out of their neighborhoods, especially during festivals.
"Let's not forget the people who live here," Normand said. "We have to balance this out."
A sales associate who works at Shady and Katie, a clothing store on the north side of Central Avenue near U.S. 41, agrees that traffic is a major problem at the 10th street and Central Avenue intersection and wondered if the problem will be solved with a roundabout.
"A roundabout sounds a little terrifying," Hilary Huckstep said. "In season, you see so many accidents there and there's a light there."
The planned transportation enhancement project will be between Eighth Street and the future Baker Park.
Improvements will be able to accommodate vehicles, bicycles and pedestrians well into the future, according to a news release from the City of Naples.
These changes mean pedestrian and bicycle connectivity from the beach to Baker Park to the Gordon River Greenway; increased on‐street parking; significant landscaping with shade trees and benches; storm water upgrades to significantly reduce flooding issues; water line upgrades and five new fire hydrants to improve fire flow and protection, as well as service reliability.
Another associate at Shady and Katie said that although she can't speak for the store's owners, who were away on a buying trip Thursday, they did seem pleased with the proposed design plans.
Sales associate Melanie Solis says she's happy the city is going forward with storm water upgrades, too, adding that during heavy rainstorms, the store's backroom has been completely flooded.
The City's project has also been designated a Blue Zone Project, according to the news release, because it promotes safe and healthy transportation choices such as bicycling within designated bicycle lanes and walking on wide, continuous sidewalks.
It also provides resting places with shade trees and benches.
While some businesses are on board with the change, Rick Johnson, owner of Rick Johnson Auto and Tire on 10th Street and Central Avenue, is not.
He says the project will ultimately hinder his ability to do business.
According to Johnson, customers won't be able to turn right in and right out of his business and he won't be able to drive cars onto service bays because he needs 35-feet of space from the road.
This means Johnson will have to find an alternative solution to the way he's done business for decades.
"If some miracle happens and my business doesn't suffer," Johnson said. "I won't sue."
He says he's voiced his concerns to city council and former mayor John Sorey, with the exception of the three new council members.
And according to Johnson, last year's council members led him to believe changes would be made, but, he said, "They just wanted me to go away."
Mayor Bill Barnett said Thursday that was absolutely not true.
"He cancels appointments," Barnett said, adding that no one is out to get Central Avenue business owners.
"We do understand small business concerns," he said. "That's why we're closing Central Avenue during summer time."
Traffic has been a hot topic in recent months, but Barnett pointed out that we all have to deal with it.
"We're all experts at being stuck in traffic," he said, adding that the improvement project is a big step to fixing the problem.
"Traffic will work better," he said. "I'm a believer in the roundabout."