Into the Wild: Betsy the Loggerhead Heads Home
March 31, 2016
On Tuesday, a few hundred yards south of Goodland, a very special sea turtle dipped its fins into the wild, open water for the first time.
The 3-year-old loggerhead flailed her flippers in Conservancy Aquarist Katie Ferron's hands before she plunged into her newfound depths of freedom about 13 minutes from the shore where Goodland Bay meets the Marco River.
Volunteers, biologists and sea turtle advocates watched the surface for any sign of the majestic creature, the ripples hopefully providing some sort of clue.
After a moment that seemed like an hour, they got one.
"There she is," someone said, as the sea turtle named Betsy swam under the boat.
Everyone smiled and breathed a sigh of relief.
Sea turtles typically return to the same area they were born in, said Nicki Dardinger, director of education at the Conservancy. In about two decades, Betsy will likely return to lay her eggs here, Dardinger said, somewhere along the southern gulf coast.
Listed as a threatened species by U.S. Fish and Wildlife, it is estimated that one in 1,000 hatchlings survive to adulthood.
Betsy came to the Conservancy in March 2014 when she was eight months old, as part of a gender research study at Florida Atlantic University on Florida's Southeast coast. She was raised and put on display in a 5,000-gallon, 10-foot-deep saltwater tank set to mimic a patch reef environment, like the type found in the Gulf of Mexico where she was released.
"People loved Betsy," Dardinger said. "It was great to watch her swim."
A sea turtle's gender is determined by the sand's temperature, more specifically 30-degrees, something biologists were trying to learn more about with Betsy.
It's the tipping point that determines the turtle's sex.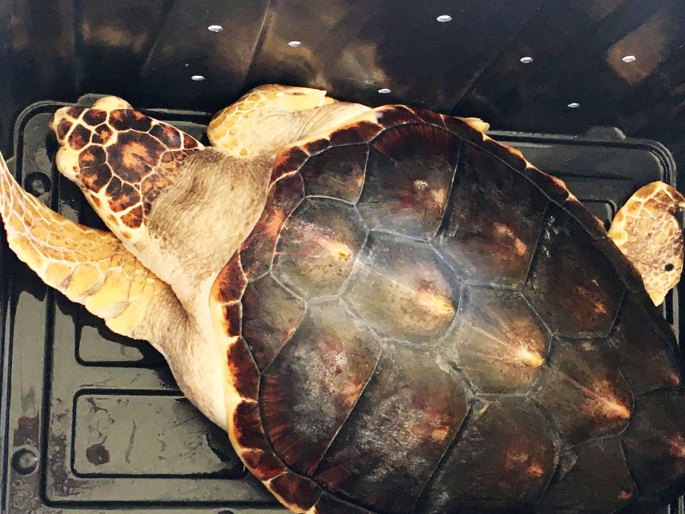 "Hot chicks and cool dudes," Dardinger said.
Betsy, however, is unique.
The sex of a turtle is determined by the egg's temperature. Normally cooler eggs buried deeper in the sand will hatch to be males while warmer ones placed closer to the surface will hatch to become females.
Betsy's gender was artificially determined in a lab, where a warmer environment was reproduced.
When Betsy arrived at the Conservancy on March 18 2014, she weighed 1.07 pounds and stretched 14.1 centimeters long and 10 centimeters wide.
A captive loggerhead being released back into the wild must have a carapace length of at least 45 centimeters.
On Tuesday, Betsy's hard upper shell stretched 46.5 centimeters long and just over 35.5 centimeters wide.
"So she is definitely ready to go out into the big, open ocean," said public programs coordinator, Michelle Rebilas.
While at the Conservancy, Ferron said biologists measured and weighed her about every two weeks while they cleaned her cage.
It was hard for Ferron not to get attached to Betsy, she said.
But biologists had to make sure she didn't become attached to them.
To do that, they developed a special way of feeding her—a long plastic pipe with holes in it designed to thrust fish and other small critters into the bottom of the tank.
"This actually encourages her to do natural behaviors such as diving for her food," Rebilas said.
Loggerheads may come up to the surface to breathe air, she explained, but they don't surface to breathe.
"They might go for a jellyfish or something floating around, but they really like to go and eat toward the bottom," Rebilas said.
Crabs and lobsters are their weakness.
Up until her release, Betsy got a steady diet of restaurant quality smelt, shrimp and crabs.
Just before it was time to set her free, biologists gave her live spider and blue crabs to feast on.
"She just went to town on those," Rebilas said. "So, we know she's ready to forage on her own."
Prior to her newfound freedom, biologists placed a PIT and flipper tag on Betsy so if she's found after Tuesday, other biologists will know where she came from.
Rebilas said she wasn't satellite tagged because the Conservancy doesn't have an additional permit to do so.
The Conservancy began its Florida Sea Turtle Monitoring and Protection Program in 1983 on Keewaydin Island.
Over the past 34 years, it has saved 260,000 loggerheads, which are named for their large head and powerful jaws.
Adults can weigh up to 275 pounds and their shell can reach up to 3-feet, but it will take Betsy 18 to 20 years to reach her full adult size, Dardinger said.
But like her namesake, the late Betsy Sandstrom, Betsy the sea turtle has come full circle.
"Betsy the turtle will go on to live life the way Betsy did," said Andy Jones, longtime tennis partner and a decade-long friend of Sandstrom. "People didn't know her, but they came together for her."
Sandstrom was a longtime sea turtle advocate and volunteer. Her friends said she was an avid birder, but turtles stole her heart.
"Betsy loved being outdoors," said Eve Haverfield, close friend and director of Turtle Time. "I guess that just appealed to her. She was hooked."